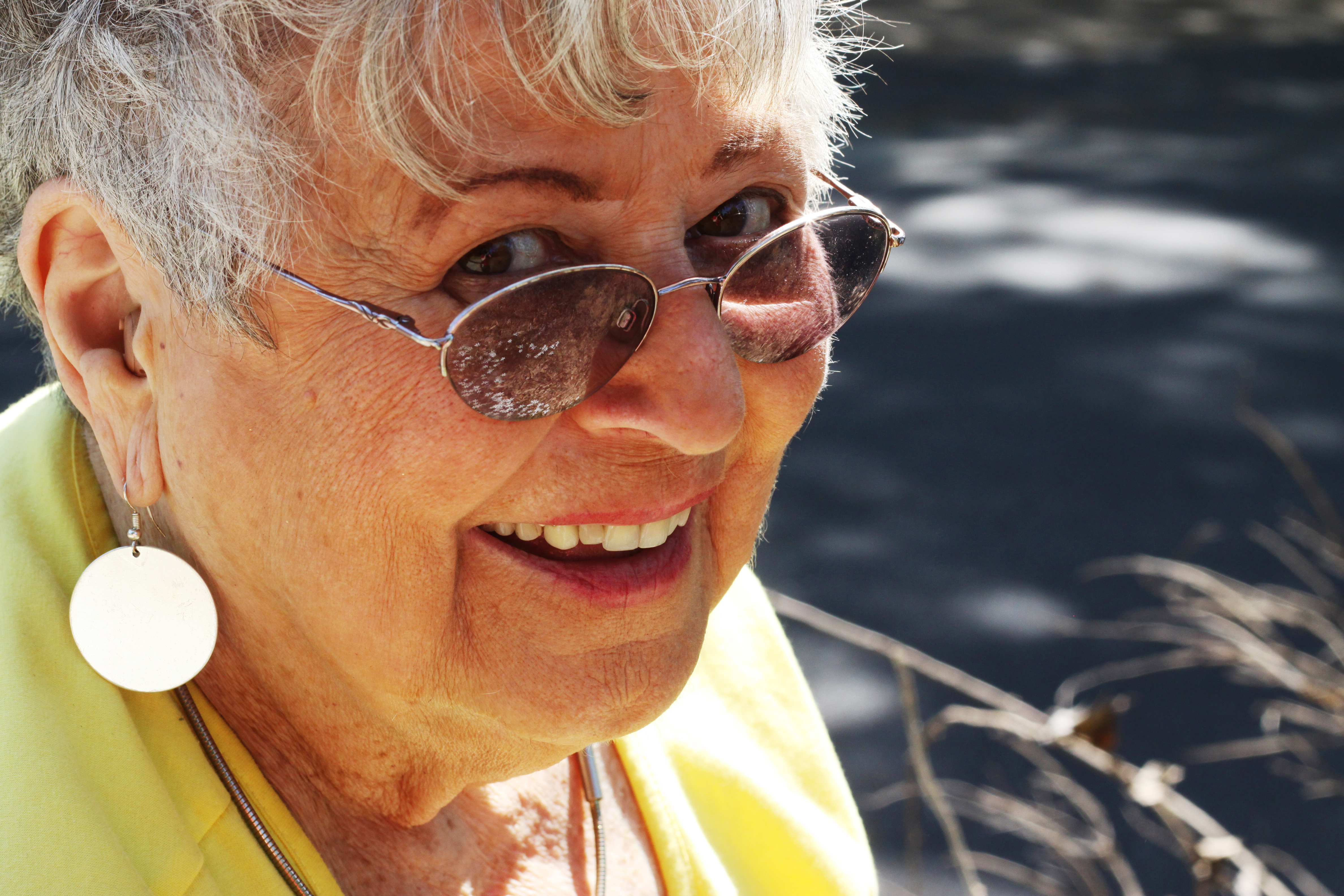 My grandmother died Oct. 10. She'd spent the last few arduous months in and out of the hospital and back to the nursing home, then back to the hospital, battling rounds of infections and pain that kept her from resting peacefully enough to heal. She had fallen and hurt her shoulder and spine a couple of months ago and it just snowballed from there. She'd been in declining health for a couple of years, her hearing and sight deteriorated to the point where she needed you to get up real close and yell in her face for her to know who you were and what you were saying.
It was a frustrating end for a woman so independent.
She was ready to go, though. That's what she said when I visited her a month or so before she died. She had just been discharged from the hospital and moved into her new room at the nursing home. She hadn't yet realized that she wasn't going back to her house ever again. I think she suspected but she wasn't ready to believe it. She missed her dog, Sal. My aunt brought him by sometimes to visit.
Grandmaw told me she was proud of her life, that she'd had a good, full life. And she was ready to meet Jesus. She seemed in decent spirits that day, enough to flirt with the cute young physical therapist wearing a pink shirt. But she seemed resigned, too. It was hard to hear, hard to see, hard to move. She had hurt her shoulder in her fall so badly that coughing — which she desperately needed to do to get over a sinus and chest infection — was excruciating.
I've been a terrible granddaughter the past few years. My own life's twists and turns ate up all my time and energy and I didn't make the effort to call or visit as much as I should have. But I think she knew I loved her. And that Holden loved her. She and he had something special. She cracked him up like no one else could.
My grandmother was an incredible woman. She was independent, strong-willed, adventurous, so funny, creative, community-minded. She was complex, and at times difficult. Like we all can be.
She touched so many lives in her years. She inspired me to think bigger, to explore, to laugh.
I have written a lot about her here, and I am so glad I have many of my own memories as well as a handful of her stories written down.
Her marriage to my grandfather. Her miscarriage. The demands of mother- and wifehood. The year she was grand marshal of the River Day parade and it literally rained on her parade. (Spoiler alert: She got a do-over several years later!)
I just went back through some posts and re-remembered some things she told me that I had forgotten.
And I reread this, about how the things in our lives that we love change so drastically with age: "Growing up is just this seemingly endless reel of the things you loved crumbling, sometimes slowly, and that is the part of adulthood that I am not handling very well."
It's been seven years since I wrote that, and things have changed even more since then. I've made my own family now, and watched my birth family go through painful changes and challenges. Grandmaw got to meet my husband, although by then she had a hard time remembering him very well. She was pleased that I had found someone who treated my son and me so well. She understood how hard it was to find a good man.
When I remember my grandmother, it's a collection of memories and sounds and smells punctuated by random snippets of things that made her who she was:
• Her collection of turquoise and coral jewelry, which I found especially beautiful and interesting. She would bring it out of her jewelry boxes and let me see it and touch it sometimes as a child.
• The candy she kept on her nightstand: Skittles, candy orange slices, Smarties.
• Sunflowers, her favorite.
• Her homemade mac and cheese, slightly burnt on top.
• The clanging of her bangles and bracelets as she moved her hands.
• Her fingernails, thick as particle board from the calcium pills she took religiously.
• Nutter Butters, slightly stale and chewy.
• The way she said "shit." Either a short spit — "shhht" — or a long E sound, quick in the middle — "sheeeit." She Clay Davised before Clay Davis did.
• The dirty frog figurines she'd picked up on her travels somewhere; they looked unremarkable on the shelf but if you turned them over, one had a penis and one had a vagina.
• Trips to Goody's in Jackson to buy school clothes.
• Eating at Long John Silver's.
• The souvenirs she brought back from her travels for us kids: A letter opener from the UK, Australian money, a keychain from Ireland. My sister kept a bundle of postcards she'd sent from various locales over the years and put them in her casket to take with her to her next destination.
• The car stacked high with styrofoam plates of meals to be delivered to shut-ins.
• The 1990s U.S. Census kit she let me play with after the census was over. It was a plastic briefcase full of survey papers. I would conduct pretend census surveys in my room.
• The homemade spooky stories book she and one of her classes made, bound in an orange and black casing that my little hands always went for on the bookshelf.
• The oil paints and brushes she handed down to me years ago, and the landscapes she painted.
That's not all. That's not even close.
How do you even begin to catalogue what a person means to you? Who they are? How much they are a part of you in ways you're only just learning? In ways you won't see yet for years?
Rest well, Margaret Jean. You were one of a kind.
[][][]
So it doesn't get lost in the ether of the internet, here's her obituary:
Margaret Jean Sanders Turner, 85, of Saltillo, TN, passed away Tuesday, October 10th, at Decatur Co. General Hospital.

Mrs. Turner was born in Friendship, TN, the youngest child of the late Bob and Lottie Hall Sanders. She graduated from Friendship High School and was in the last class of the UT Junior College at Martin in 1951. She also attended Lambuth and Memphis State. She met Bobby Turner, her late husband, in college and they married in 1953. They lived in the Five Forks Community just outside Saltillo. Mr. Turner passed away in 1993.

Margaret was very active in and around Saltillo. She had taught Elementary School at Saltillo, was Registrar-at-Large with the Hardin County Election Commission, worked at H.I.S., was secretary for the Town of Saltillo at one time. She had also worked with the Federal Census Bureau for over three decades. She had volunteered with the Hardin County Tourism Committee, as well as the Pictorial History of Hardin County Book committee, she was one of the organizers of the "River Day" Homecoming Parade, helped organize the area Meals on Wheels Program, She served 10 years as a local fire fighter and state certified First Responder. Mrs. Turner had served as secretary/treasurer for the Saltillo Family and Community Education Club, treasurer and member of Saltillo United Methodist Church, a certified AARP Driver Safety Instructor, Advisory Board member of SWHRA Foster Grandparents, and for years, she wrote the community news for the Savannah Courier. She had been a member of the Soggy Bottom Belles Red Hatters. Her greatest interests were the history of Saltillo, her family geneology, her flowers and dearest of all, her family.

Margaret is survived by a daughter, Cindy (Jacky) Chumney, of Parsons; a son, Steven S. (Frances) Turner, of Saltillo.

She is also survived by 5 Grandchildren – Krissie (Chuck) Tucker, Lindsey (Richard) Turner-Garrett, Keri (Randy) Inman, Evan Turner and Tyler Chumney; 6 Great-Grandchildren – Casey Collins, Patrick Collins, Holden Karpovage, Levi Turner, Kalanie Inman and Rylie Inman; 3 special friends – Roger Gant, Patsy Gant and Diego Porras.

She was predeceased by her parents, Bob Berry & Lottie Hall Sanders, her husband, Bobby Newman Turner, a daughter, Susan Belinda Turner and a brother, William Robert Sanders.

Her Funeral Service will be held at Saltillo United Methodist Church, Saltillo, TN, at 1 PM on Friday, October 13th, with burial to follow in White Lawn Cemetery near Saltillo.

Visitation will be Thursday 2 PM – 9 PM and Friday 10 AM until service. All visitation and funeral service will be at Saltillo United Methodist Church.

Pallbearers are: Darnell Lowery, Jim Brown, Patrick Collins, Casey Collins, Randy Inman and Richard Garrett. Honorary Pallbearers are: Roger Gant and Diego Porras.